This week's sketch is kind of an old school one for me. I really love flowers and flourishes, so I needed to take a walk back in time - however...there is still a large circle (optional of course).
Beatriz Guzman
is such a fabulous designer and she has something new to post on her blog almost everyday. Here is a little bit about her,
"Paper Crafting has been my passion for as long as I can remember. It was a turn of events in my life about 8 years ago that lead me to scrapbook "almost" full time. When I moved to Alabama about 9 months ago and both my children were married and gone, I had all the time in the world to scrap and to finally get into blogging. That is when I found Liz's site and her sketches just inspired me so much that I have been doing them ever since."
Here is what Beatriz had to say about working with the sketch, "My style is very linear and I love swirls and flowers. I also like to scrap double pages and multiple pictures in each page. Again, this is why Liz is my favorite sketcher!!!!! I believe she understand that "realistically" we can't scrap a picture per page!!! My favorite tools are my ancient 12 x 12 guillotine cutter and my ATG adhesive gun. I am crazy about papers, Prima flowers and Maya Road anything and everything. I feel very honored to be Liz's Guest Designer and I am so happy and thankful she shares her God-given talent with the rest of us."
Close ups of Beatriz's work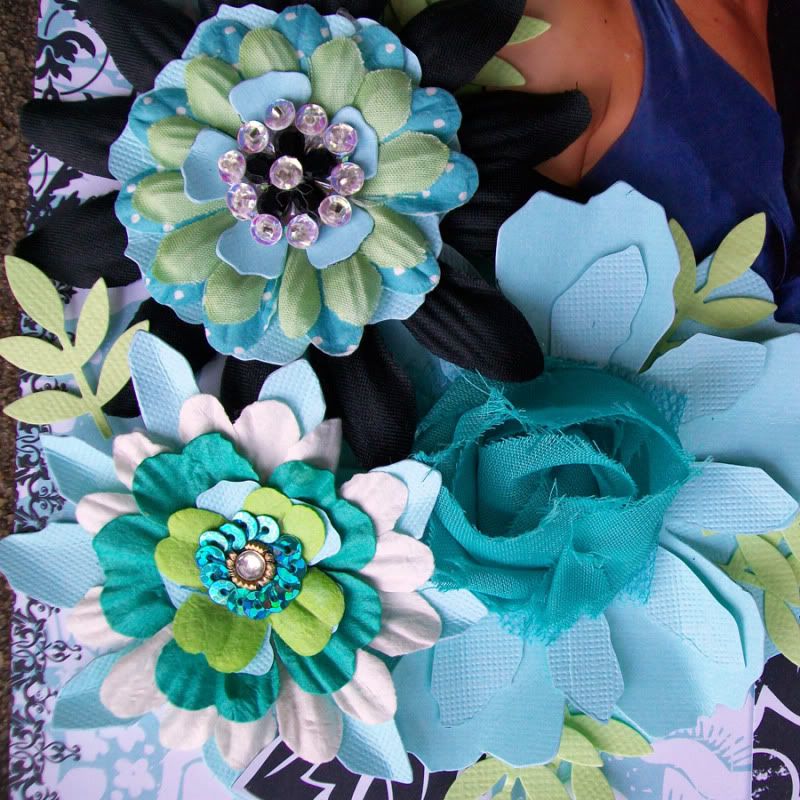 Please visit Beatriz's blog
Amazing Grace
for more information about her and details about her work.
Ellen Magnette
created this really striking version of the sketch this week. Here is what she had to say about working with it,
"I first thought I would rotate the sketch 90°, but remembered I had this wonderful picture still to be scrapped, and then decided to go for a verbatim interpretation (as usual would say some of my scrap friends!). I then chose some lovely Bo Bunny papers, organized the whole lot together, and... here is the result!"
Arianne Addicks
returns again with her wonderful version of the sketch this week. Here is what she has to say about working with it,
"This sketch gave me the chance to work with another set of photos from my trip to Marocco last year. I had about 5 photos of these glasses of mint-tea. Never intended to be used at all, so this sketch gave me the opportunity to use just two. I went through my stash looking for paper with a lot of green in it. When I found this amazing SEI - Bridgeport paper, I knew I wanted to use this. The paper with big flowers and branches suits my photos perfectly. The flower is so big, that adding a tag is real hard. Since I think my LO doesn't need journaling, I put a title in the place of the word-strips."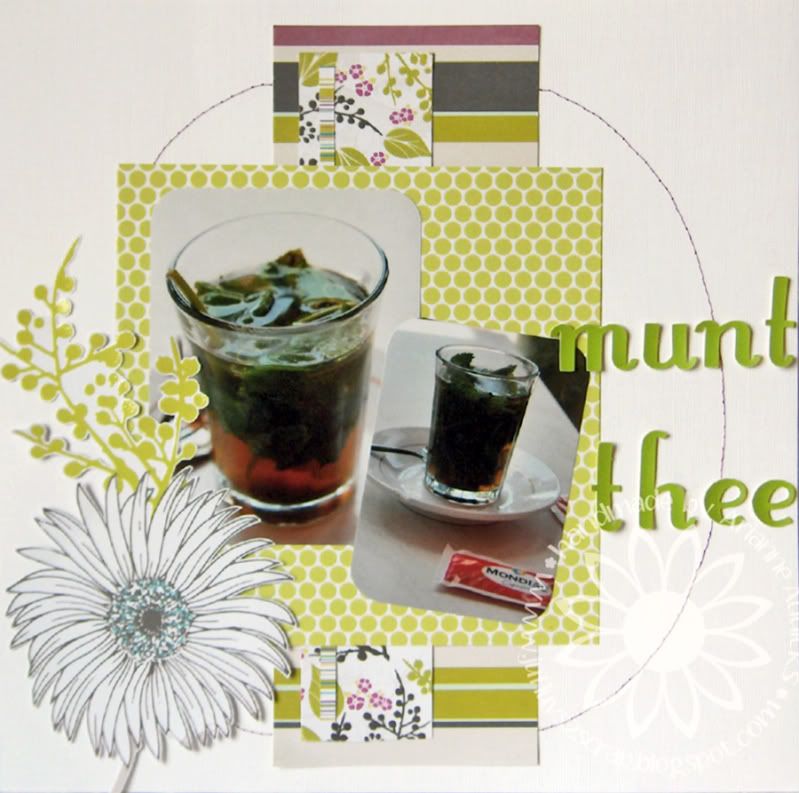 I'll update the July Sketch challenge this week.
Thank you for stopping by -